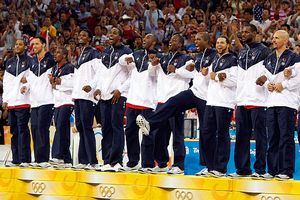 Culminating a three year mission to end years of international frustration, the
U.S. "Redeem Team"
survived a huge challenge from
Spain
, winning 118-107 in the
2008
Olympic
G
old Medal Basketball
game. Order has now been restored in international basketball. After overwhelming everyone for seven games, the
Americans
led by only four points with under 2 1/2 minutes to play. Then, they proved they could handle a close game that it seemed would never come in Beijing. Their prize.... the first U.S. gold medal since the
2000 Sydney Olympics
.
Dwyane Wade
of the
Miami Heat
scored 27 points for the Americans, who found a much gamer Spanish team than the one they humiliated by 37 points earlier in the tournament.
NBA

MVP Kobe Bryant
of the
Los Angeles Lakers
added 20 clutch points and led the team with 6 assists. The Americans had too much offense down the stretch. Bryant converted a clutch four point play with 3:10 remaining, holding his finger to his lips to quiet the rowdy Spanish crowd behind the basket. Wade added another 3 pointer that made it 111-104 with just over 2 minutes left, and only then could the Americans relax a little. They began to celebrate during a break after some technical fouls on Spain with 26 seconds left, then partied at midcourt when it was over with "Born in the USA" blaring over the arena's speakers.
Rudy Fernandez
of the
Portland Trail
Blazers
scored 22 points and
Pau Gasol
of the
Los Angeles Lakers
had 21 for the Spanish, the reigning world champions who were hoping to win their first Olympic gold. Now, here's hoping that
USA Basketball
can keep the core of this group together for the
2010 World Championships
in
Istanbul
and the
2012 Olympics
in
London.
If they can, this team may be able to shed it's "Redeem Team" moniker and fulfill the illustrious
"Dream Team"
legacy.